Crowd360 Approach
Collaborative Project Management | We improve our services | We are evaluated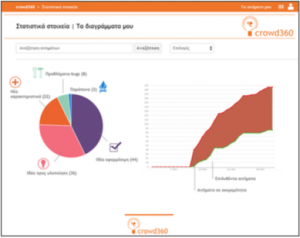 The framework of Crowd360 is addressed to all our customers and partners. Through Crowd360 we effectively support the projects we undertake and the services we provide, thus implementing an innovative collaboration model.
Benefits +
We continuously upgrade and improve the services provided by Crowdpolicy and its internal procedures.
We support transparency in the services we provide, from the moment we receive a request until the final solution.
We are evaluated for the solutions we provide.
We convert tacit knowledge, the ideas and proposals of our customers into operational procedures and new innovative ventures.
We create an innovation network between customers, partners and executives of the company.
Crowd360 Services
Multichannel access for our customers / partners (different devices, internet).
Submission of requests for support and receipt of services in a structured way.
Electronic procedure of evaluating requests
Prioritisation of requests regarding the provided services and the projects in progress.
Access to personalised Service Desk services.
Display of the status of requests – issues per project.
Collaborative place for the resolution of issues regarding the implementation of projects –
Corporate Knowledge Base
Submission of proposals for the improvement of the services provided by the company and submission of complaints.
Indicative screen of the Crowd360 System for Collaborative Project Management
Click here to download the Crowd360 Leaflet (available in Greek)