(GR-EN) Η ΠΛΑΤΦΟΡΜΑ act4Greece ΚΑΤΑΚΤΑ ΤΟ ΑΡΓΥΡΟ ΒΡΑΒΕΙΟ ΣΤΑ BITE Awards 2016
July 14, 2016

Posted by:

admin

Category:

Company Info, CrowdFunding, Crowdpolicy Milestones 2016, Press Releases
Η διαδικτυακή πλατφόρμα act4Greece κατέκτησε το Αργυρό Βραβείο (Silver Award) στην κατηγορία «Υποστήριξη CSR Στρατηγική», στο πλαίσιο του θεσμού Business IT Excellence (BITE) Awards. Στελέχη της Εθνικής Τράπεζας παρέλαβαν το βραβείο σε μια φαντασμαγορική γιορτή της τεχνολογίας την Πέμπτη 23 Ιουνίου 2016, με την παρουσία περισσότερων από 500 στελεχών της αγοράς Πληροφορικής και Επικοινωνιών, καθώς και εκπροσώπων της ακαδημαϊκής κοινότητας.
Η πλατφόρμα act4Greece είναι μια πρωτοποριακή εφαρμογή που αξιοποιεί νέες τεχνολογίες, δίνοντας τη δυνατότητα στους πολλούς να προσφέρουν σε έργα κοινωνικού και αναπτυξιακού προσανατολισμού, εύκολα και με απόλυτη διαφάνεια. Ταυτόχρονα, εισάγει στην ελληνική πραγματικότητα το νέο μοντέλο πολυσυμμετοχικής χρηματοδότησης crowdfunding, το οποίο είναι πλέον εφικτό με τη χρήση της σύγχρονης τεχνολογίας.
Η πλειονότητα των φετινών υποψηφιοτήτων χαρακτηρίστηκε από καινοτομία, ευρηματικότητα και απτό επιχειρησιακό αποτέλεσμα, γεγονός που σηματοδοτεί ότι η σημερινή ψηφιακή εποχή έχει προσδώσει στρατηγικό ρόλο στα έργα Πληροφορικής και Επικοινωνιών για τις επιχειρήσεις.
Η διάκριση αυτή επιβεβαιώνει ότι η πλατφόρμα act4Greece αποτελεί ένα τεχνολογικά προηγμένο εργαλείο που σχεδιάστηκε ώστε να συνδυάζει λειτουργικότητα και διαδραστικότητα, διευκολύνοντας τον απλό χρήστη να συμμετέχει στην επίτευξη συγκεκριμένων σκοπών στους τομείς της κοινωνικής πρόνοιας και της αλληλεγγύης, με έμφαση στον άνθρωπο και το περιβάλλον.
Η Crowdpolicy έχει αναλάβει το σχεδιασμό, υλοποίηση και λειτουργική υποστήριξη της πλατφόρμας του act4Greece. Είμαστε και εμείς περήφανοι στην Crowdpolicy για αυτή τη διάκριση.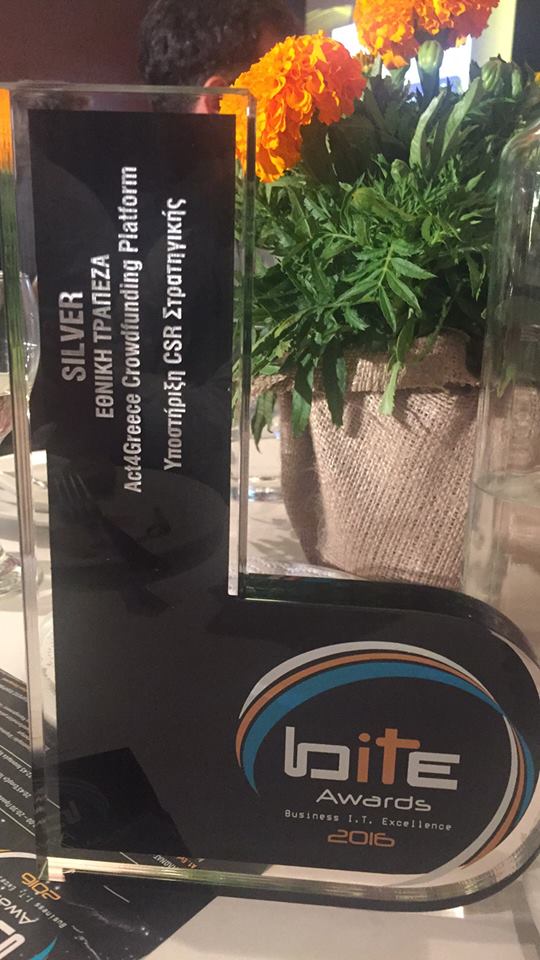 In the context of the Business IT Excellence (BITE) Awards, the act4Greece online platform was awarded the Silver Award in the category "CSR Strategy Support". The award was received by NBG executives at a phantasmagorical tech festival, held on Thursday 23 June 2016 and attended by more than 500 ICT executives and representatives from the academic community.
act4Greece is an innovative online platform that makes it possible, through easy and transparent procedures, to gather funds from "the crowd" to support projects of a social and developmental orientation. At the same time, the platform introduces the new crowdfunding model to Greece, which is becoming feasible thanks to cutting-edge online technology.
The majority of this year's candidate projects displayed innovation, creativity and tangible business results, reflecting the fact that today's digital capabilities have given ICT projects a strategic role for businesses. This award serves to confirm that the act4Greece platform is a state-of-the-art tool that combines functionality and interactivity thus enabling the user to participate in the attainment of specific goals in the areas of social welfare and solidarity, with a special emphasis on the community and the environment.
Crowdpolicy has undertaken the design, the implementation and the operational support of the act4Greece platform. We, at Crowdpolicy, are proud of this award.